These Two Stylists Swapped Outfits (And Attitudes) for a Day
My style evokes a certain sense of rebellion I picked up and never discarded from my teen angst years. When I took a trip to Marfa in August for a little femme getaway called Cherry On Top, I ran around that small Texas town in transparent tops and g-string bathing suits — you know, just to shake it up for 'em. The people of Marfa were "shook," to say the least. In fact, a friend who recently visited there said she met a man who kept bringing up seeing all these young women in red galavanting around town. He said he'd never seen outfits like that or women in packs so outspoken and wild.
This is the response I crave. There is a feeling of discomfort that tends to inspire me and I ask myself what boundaries can I ride without fully crossing a strict line? Most days, I focus on pushing the limits of my surroundings, or even myself. Clothing that nudges people out of their moral standings, makes them question if they like it or not, that's what I love.
While my style changes constantly, I tend to hold fast to little personal touches no matter what I'm wearing — my light-wash Lee denim that hugs my bum just right, and my silver charm necklace that stays on at all times (UNLESS I'm in the shower). Having constants in my closet as fallbacks for when I have "closet block" and feel lost about what to wear is key to keeping my conscious closet continually fresh.
Earlier this month, I partnered with fellow stylist Kasi Martin for a "style swap." Kasi brings a bit of truth-telling to fashion with her blog, The Peahen, which she describes as a "destination to discover ethical fashion." For this challenge, we styled each other from head-to-toe in what we might each wear out in our day-to-day, the idea being to exchange clothes and try on each other's personas.
Sporting someone else's personal "costume" can be quite intimidating though. As a stylist and model, being dressed by others is such a gifted experience, but there's also a fear of not wearing it well or showing off their clear vision with the right mood or attitude. In the hours before our shoot, I felt a bit of pressure — the weight of this worry swept over me as I prepared to step in front of the camera. It's as if the personal aspect of Kasi's style created a sort of level I needed to rise to.
This outfit was so empowering, and boy, did I level up that day! I like to think of every outfit as if it were a costume meant to convey a certain mood I'd like to take on. Dressed in Kasi's clothing, a sense of confidence and power came over me. The structure of her green blouse and its gold lining felt clean and crisp. Not in an "I finally showered this week" type of way, but in a simple, elegant, put together way. This polished look demanded a business-like demeanor. I honestly felt my age for the first time in a while — like I reached a point of maturity I hadn't yet realized. This is not to say I don't regularly feel "maturely" dressed, but in this outfit, it was as though I could sit at a conference table full of businessmen and win an argument, despite their resistance to a woman making a valid point. It was a completely different mood from the unapologetically naughty '90s aunt vibe I tend to go for, and I can appreciate that.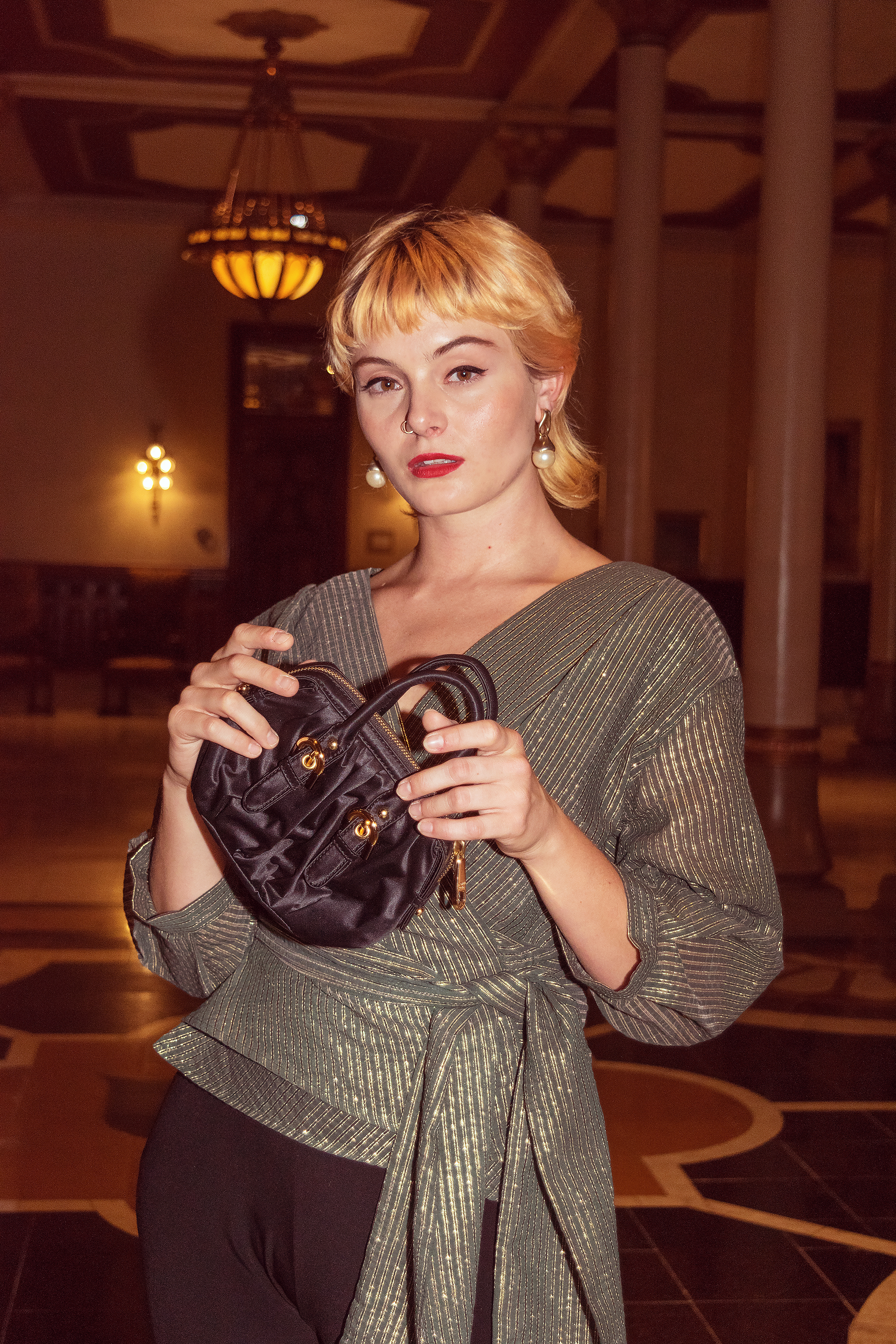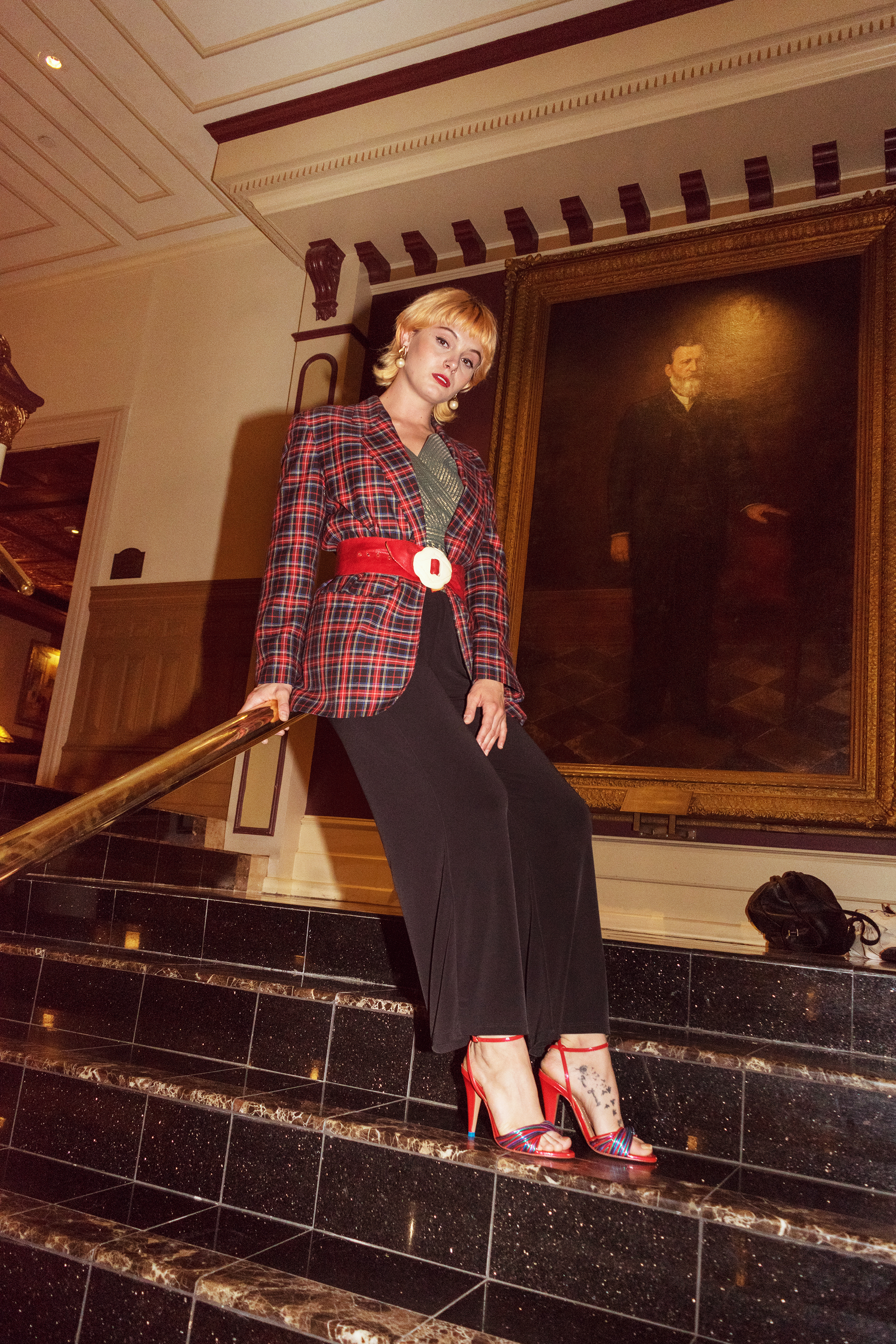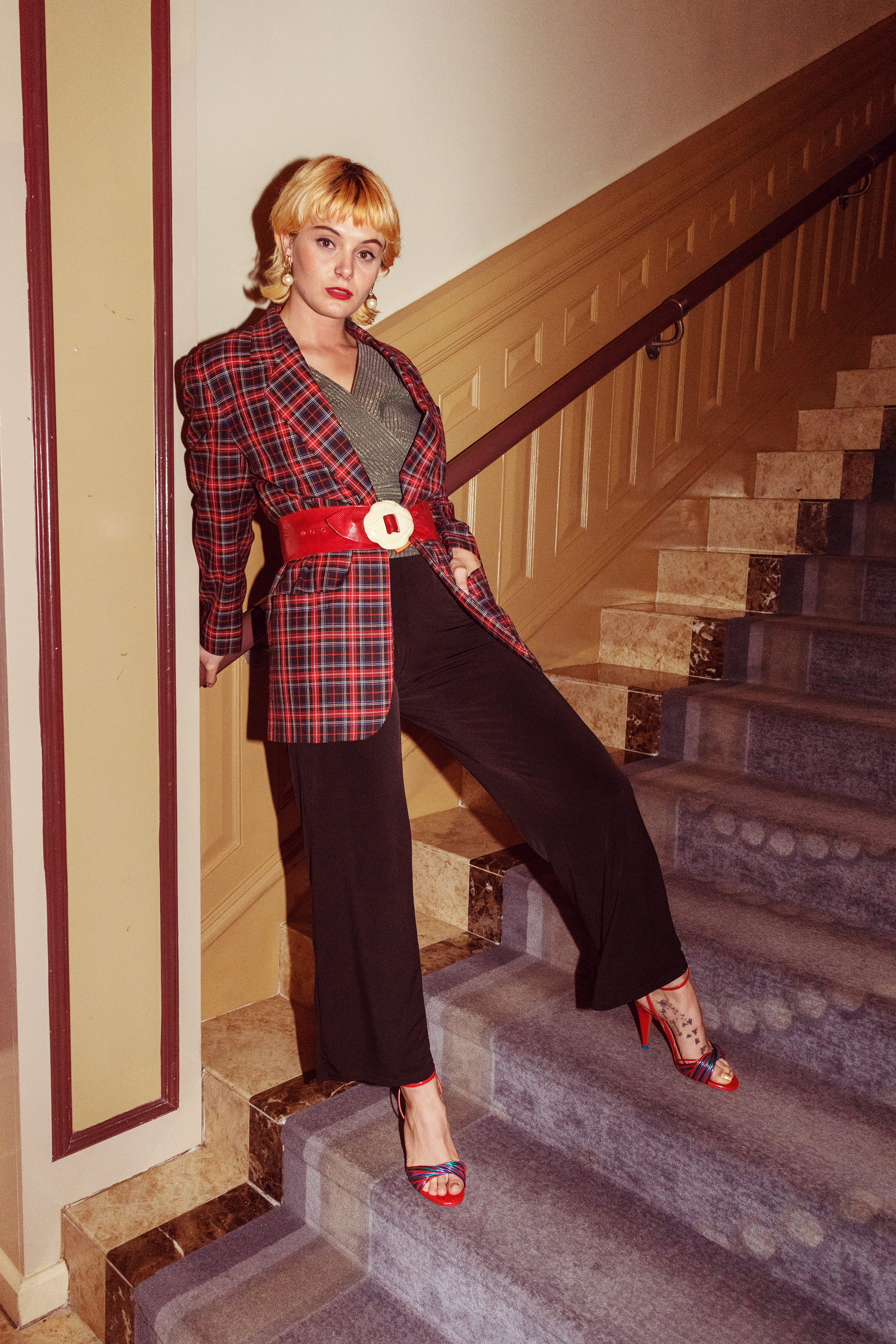 It was fun to sort through what different components of my own style would represent my costume on Kasi. I decided to go with what I'd wear if it wasn't still 80 degrees in October. The big sweater and corset combo found its way into my closet late last winter and never bid its adieu. I also went with some of my current favorite pieces: a vintage Tiffany & Co pendant from my mother and a pair of wide-legged khaki pants I can't seem to find an excuse to NOT wear every day. Our MUA really rocked my world when she added my everyday must-wear orange shadow on Kasi's lid to add a final dash of "Meggie" to the look!
👟 Head on over to The Peahen to catch photos of Kasi's transformation and read her take on our little switcharoo. 👟
Kasi took this outfit and ran with the vibe. It left me in a state of such joy and pride. She's a genuinely energetic person, and she truly let her stunning persona shine in front of the camera. Her body language was so unique and bold, which is exactly what this outfit needs. Kasi totally dominated this corset look — with her shoulders held high in this oversized sweater and a slight twist to her hips that read as more ferocious than standoffish, this style really came to life. It was such a joy to see her "take on" my attitude in her own way.
Our hour of outfit swapping opened a new portal to my own personal style. Being styled by Kasi has inspired me to add more tailored pieces to my own eclectic wardrobe –– like I think we can all agree that I need a rockin' set of sleeves in nine colorways for the coming winter!
Featuring Meggie Copeland. Photography and makeup by Magdalena Antuña.