We Sourced the Best Spring Trends Secondhand
If you hang around fashion industry people long enough, you learn a dirty little secret: the trends we see each season are set very Wizard-of-Oz-man-behind-the-curtain like by trend forecasters. That's right, the colors, cuts, and styles of the season were determined by data and money and corporate entities — probably with all the creativity of an office manager buying toner. Once you're old enough to afford real non-Ikea furniture, you'll have wised up to the fact that trends return again and again. Just a little different, but yeah, you've absolutely seen that before. It's a wonder that fashion brands get us to buy anything at all (we increasingly don't). Sure to further discourage us, this season's trends are sooo stereotypically spring with only a few surprises (hello, western wear). While shockingly unadventurous for designers, it's cool for thrifters because we can source these basic trends like that. *snaps* Below is the runway inspo plus items we are popping in our carts at online secondhand shops.
Sheer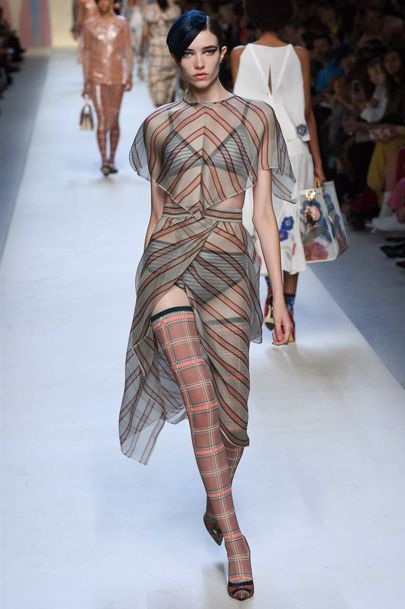 As the weather warms, sheer pieces are a no-brainer outfit update. No. 21, Helmut Lang, Simone Rocha, Armani, and Burberry all went for this trend with transparent tops, dresses, and skirts. Pro tip: be sure to get your undies in order if you're going for this wispy wardrobe. If you're not into bearing it all, try sporting see-thru accessories and outerwear or layer this look for more coverage.
You can start phasing out your Millennial Pink for more lavender tones, however no one is surprised by a pastel trend for spring. Like, no one. Update this Golden Girls lewk with cool cuts or color combos — go for broke with a monochromatic outfit a la Victoria Beckham or pair a pastel with a more unexpected neon like Novis did. These colors will flow nicely through summertime, so think of them as seasonal basics more than a true trend.
Dark denim is back, baby. Well, it probably never left for those of us with thicker thighs or work dress codes, but we digress. Darker denim looks more polished and is often more flattering than lighter washes so embrace this one, folks. Kenzo went for the full Canadian tuxedo look, but the versatility of denim can be also translated into some of other spring trends like pencil skirts and trench coats.
The denim and sheer trends also spill over into this western wear craze we are definitely into. (Christian Dior went all in with this one.) Embrace your inner cowgirl with a straw hat and a great pair of boots, or go cowgirl lite™ with beaded and embroidered details and crochet pieces. These kinds of items are fairly easy to thrift, but it's how you style them together that will let everyone know you've really lassoed this trend.