Skip the To-Go Cup and Sip on This Playlist
☕️ Brought to you by The Little Coffee Company, a sustainable enterprise that offers a traceable coffee supply chain. Get a 5% discount on their roasted coffee with the code SELVABEATSIP ☕️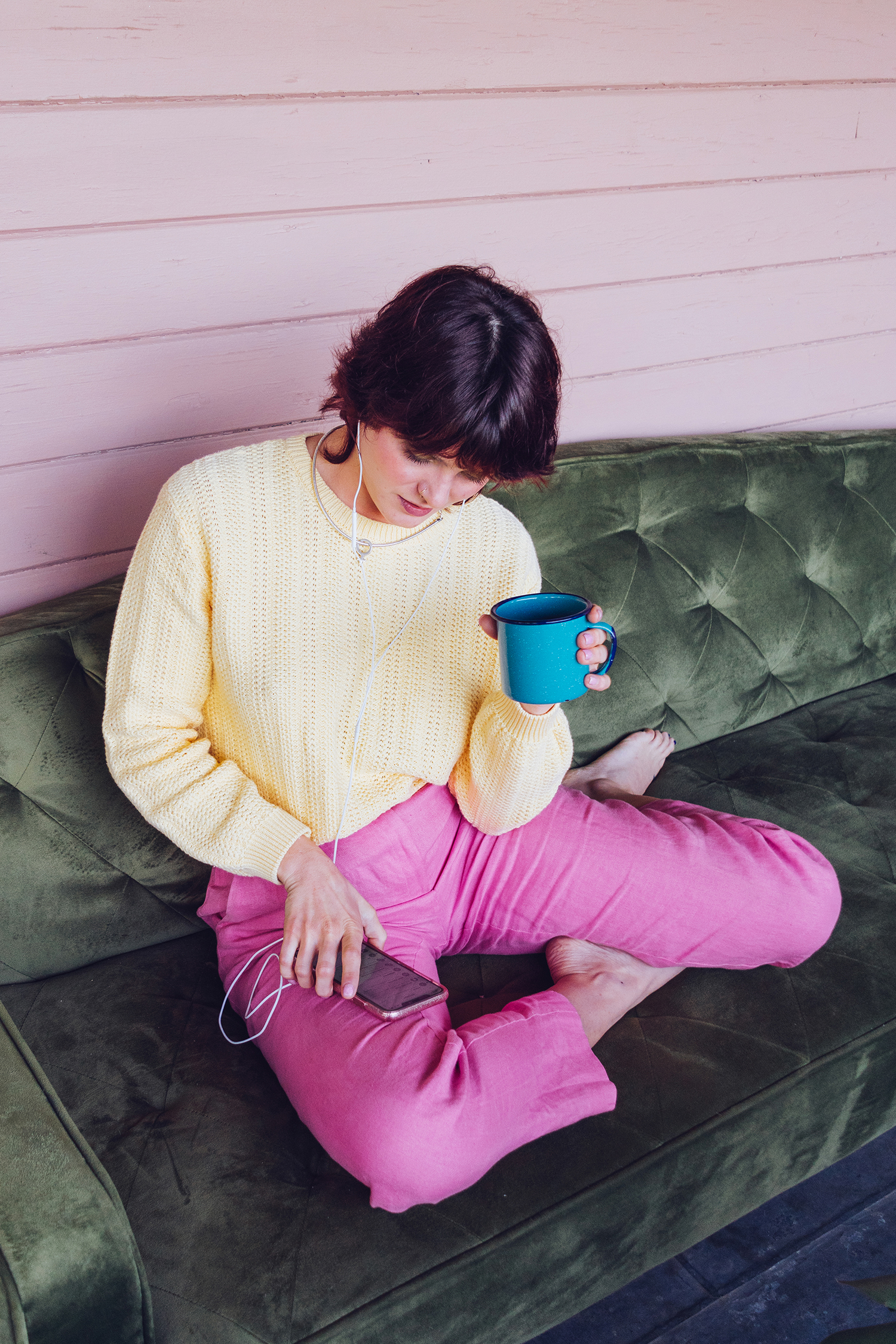 On any given day, over 2.25 billion cups of coffee fuel people around the world. The caffeinated beverage has always been used to perk us up, but somewhere along the way drinking it became a lifestyle. Searching "But first, coffee" on Etsy will return over 10,000 results. Some of those "caffeine addicts" (1,589 results), head to their local coffeehouses to get their daily fix. In case you weren't intensely aware, levels of caffeine peak in your blood within about 15 to 45 minutes of consumption. With travel time, that's 45 to 60 minutes of NYC streets and baristas unfiltered by the benefits of caffeine (no thank you). I, on the other hand, evangelize brewing at home with your own equipment, personalized mugs, non-dairy milk, sweetener of choice, and music (please, hear me out).
In the pre-Starbucks era, local coffee shops often attempted to approximate your living room with cozy couches, mismatched armchairs and a laidback vibe (think Friends' Central Perk). Whether you think it was deprivation or a blessing, this was also a time without smartphones or wifi so patrons read, chatted with each other, or listened to music in these spaces (many shops still feature live music by local artists). They also contributed to the burgeoning Coffeehouse Music genre — one that you may remember available in CD format at the register alongside the baked goods.
Many pixels have been spilled on the Starbucksification of coffee, so I won't go into that here, except to say that the company represents everything wrong with present-day coffeeshops. From single-use coffee cups to gross bathrooms to racial profiling, Starbucks is the coffee stain on society we just can't seem to blot out. The proliferation of wifi, smartphones, and laptops, alongside corporatization, has cultivated a homogenized ambiance in today's coffeehouses that is far removed from their revolutionary roots. Some shops are actually limiting or eliminating wifi and blocking wall outlets in a bid to bring back more conversation, though for me this further deters me from going out in order to caffeinate and work.
And as someone concerned with my environmental impact, the convenience of popping into a coffee shop for a cup to-go is greatly diminished anyway. Because of issues in design (plastic-linings) and human error (what bin do I toss this in?), the only truly sustainable option is to bring your own coffee container. In addition, it's difficult to derive the provenance of a shop's beans to determine whether they are sustainable or ethical.
Part of the coffee lifestyle should be sourcing ethically grown beans. Figuring this out is as fraught as ethically sourcing any consumer product, but is made easier and more transparent by enterprises like The Little Coffee Company. To source and produce some of the most prized coffee beans in the world, they work with female farmers in Jamaica to help them become more economically independent and support eco-friendly farming projects. By purchasing their beans, you fund farmers directly — which means they avoid long delays, high bank fees, and the volatility of handling cash — and help them build up their communities.
If I'm going to bring my own cup, be deprived of free wifi, and swill untraceable brew, I might as well just caffeinate at home (and save money too). The least wasteful process I've hit upon is to grind my own beans, brew them in a French press, and compost the grounds. It sounds a little intense, but it really only takes me about 10 minutes. I urge you to lean into the ritual as you press, perk, chill, drip, pour over, or double brew your best cup of coffee at home.
The only thing to miss is a great coffeehouse soundtrack. For that, we've got you covered.