Support This: 10 Inclusive Lingerie Brands to Love
Due to my rebellious desire not to support naked capitalism rooted in objectification, I am currently the undignified owner of an extensive collection of panties that one can only describe as 'tattered.' Prior to being assigned this piece, I lacked the motivation to research my options, and so only my spouse and my laundry service knew my shame. Now knee-deep in ethical panty options, my search has led me to conclude that, indeed, "the personal is political" — and what's more personal than your underthings?
Trans bodies, queer bodies, black bodies, brown bodies, and their intersections are all current battlegrounds for rights and agency. Existence is resistance. If you think about it, lingerie is the bond between your naked truth and what you put out into the world as a fully-clothed being going to work, taking care of others, kicking ass, and taking names. If our outer clothes can impart power and confidence, why not our inner ones?
As we fight against laws that seek to control, manage, and disappear our bodies, we want to highlight ethical brands working to represent diversity and inclusivity in the lingerie industry. As we push against unhealthy body images, labor conditions, and environmental damage, we want to share brands that embrace sustainability and wellness. Valentine's Day marketing often depicts your body as a "gift" for another, but we want to encourage radical self-love first.
An affordable luxury lingerie line out of Nigeria, Aimanosi is committed to training and empowering women in Africa. Their mission is to create beautiful and well-fitted lingerie for women of all shapes and sizes; to promote positive body images; to promote employment and the use of resources within Africa and by Africans; and to produce lingerie that speaks to the vibrant, tenacious, and supportive vibe of metropolitan cities in Africa. To this end, they partner with training programs, businesses, and their customers to improve health and professional development in Nigeria.
Based in Europe, Baserange works with high quality, organic fabrics in innovative ways to create easy-to-wear, accessible garments. To minimize environmental impact, they use only sustainable fabrics and certified Öko-tex dyes, and work exclusively with small family based factories. Their styles include various silhouettes that are modern and simple, verging on unisex, which they say are made to emphasize natural beauty and be "forever wearable."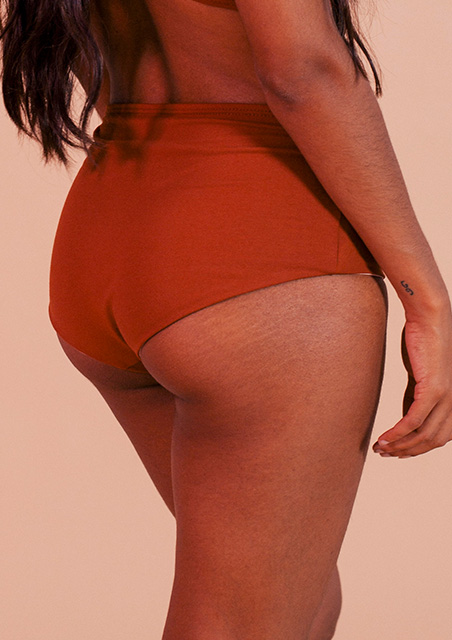 Bluestockings is a one-stop shop for ethically-produced, inclusive lingerie brands. Their mission is to empower populations traditionally marginalized by the mainstream lingerie industry and to offer them an experience that reflects their identities, their bodies, and their values. Bluestockings' values include LGBTQIA+ inclusivity, ethical manufacturing, sustainability, transparency, and community. In service to these values, they offer a sex worker discount, and donate to Rosie's Place, an LGBTQIA+ inclusive women's shelter in Boston, and Bottomless Closet, a New York City charity which provides services for women on assistance and working-poor women. Their products come to you mailed in discreet packaging that is also 100% recycled and reusable.
La Vie En Orange creates super soft and comfy undies out of old t-shirts — in fact, the founder is so dedicated to fit that there is a Hot Booty Guarantee! Since all of the products are hand cut, hand screen printed, and handmade, orders can be customized to include compression panels or soft packers.
Lonely is a New Zealand-based design house creating lingerie, swimwear, and clothing. They forgo conventional marketing and instead feature women around the world from all walks of life wearing Lonely in their own way via their Lonely Girls Project. Inspired by women, Lonely strives for positive body images and freedom of expression through outstanding comfort, unique signature silhouettes, and custom prints and fabrications. They have flagship New Zealand boutiques in Auckland and Wellington and stockists across the globe from Tokyo to Los Angeles.
LÖV's mission is comfort. They want to counter the idea that lingerie is for anyone but the wearer so they focus on quality materials and production. Their simple silhouettes are made in Europe from organic fabrics and nickel-free metals. LÖV lives by an honest approach — un-photoshopped images, simple designs, no push ups, no underwire, and no padding.
A woman-centered brand, Naja seeks to disrupt lingerie marketing by empowering instead of objectifying. In marketing, this means that model poses are never aimed singularly at the male gaze. In production, it means their garment factory primarily employs single mothers and female heads of household who receive fair wages and healthcare. Their Underwear For Hope program employs women in Columbia and 2% of Naja's revenue is donated to local charities for continuing education of the workers. Naja uses digital printing and fabric made from plastic bottles to reduce water and resource waste. Their beautiful Nude For All campaign is yet another way they have addressed a lack of equality in the mainstream lingerie industry.
Headquartered in London, founder Ade Hassan created Nubian Skin to address the dearth of skin tone choices marketed as "nude." Nubian aims to meet the essential underwear needs of women of color. In addition to a variety of skin tones, they carry a good range of sizes in most of their styles.
Pansy creates ethical undies out of American made materials and labor. The organic cotton is grown and milled in North Carolina, the cotton elastic is made in South Carolina, the underwear is dyed with fiber-reactive dyes in a factory in Novato, CA, and they are sewn in California. The two women founders, Laura and Rachel and their photographer friend, Nastassia, create the dreamy photos used in their campaigns.
Founders Fran & Naomi are pushing an agenda: a human agenda which states, "We are all people." Simply put, they want you to be comfortable in your own skin, regardless of where you fall on the size or gender spectrum. Tomboy Exchange has various styles, sizes XS-4X, which are fit tested on all body types. Their products are made in LA, Vancouver BC, and China out of fabrics that are Oeko-Tex certified. In the FAQs, they say that they personally visit their factories regularly to ensure they meet high standards, including fair wages and safe environments for employees. Tomboy Exchange also offers a generous Love At First Wear Guarantee (for U.S. customers) and an awesome Pride collection!
Cover image sourced via Pansy.