How I Buy Sustainable Fashion and Still Pay Rent
Would you believe me if I told you I stopped shopping for two years? I'd learned about the unethical treatment and dangerous working conditions of the people who made my clothes, not to mention how much pollution the textile industry creates. It was a time of conflict, confusion, and reflection and it seemed easier to opt out of the system than to figure it out, much less afford, "sustainable fashion."
As a conscious consumer, I struggle with trying to be mindful of who I support with my shopping habits. Living on a budget, especially as a college student, makes it even harder. It also seems to me that ethical, sustainable fashion is targeted to and dominated by mainly white women and is typically very expensive. So what about those of us without the financial means? We still care, but we can't afford sustainability as a luxury. Going to school and working while trying to be conscious of your impact and footprint can be overwhelming. But it doesn't have to be! To help you out, I did some digging to give us options when it comes to finding and supporting eco-friendly brands without breaking the bank.
👛 Buy Budget-Friendly Brands 👛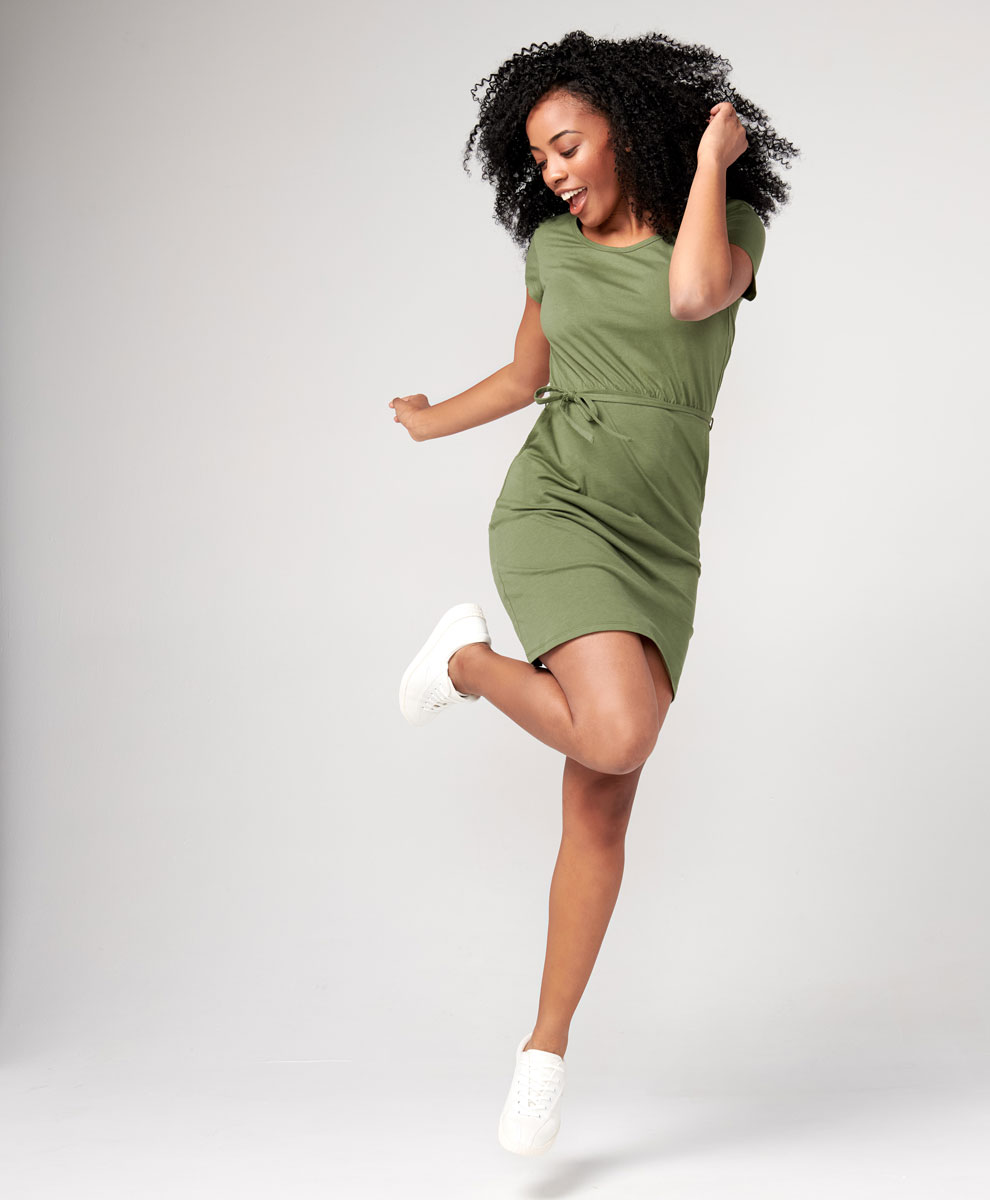 Here, we're looking at accessibility, price point, and ethics:
Online/Sold in some retail stores

Price: $ - $$$

Comfy at its best, Alternative Apparel provides soft basics with a range of different patterns to spruce up your cozy style.
Online/Retail storefronts in select locations

Price: $ - $$$

Everlane has a minimal, modern, sleek style making their pieces easily able to fit into any wardrobe. Not to mention their constant transparency in believing that their customers should know the true costs of their clothing
Online

Price: $-$$

Made from recycled plastics, Girlfriend Collective is turning trash into an array of stylish athletic wear while being body positive too!
Online

Price: $-$$$

Clothes made from recycled plastic, organic cotton, vegetable dyes, and much more. Groceries apparel ranges from basic intimates to activewear.
Price: $ - $$

Cotton made basics with a modern edge.
Online

Price: $ - $$

Casual clothes with some fun patterns and every clothing piece is also hand signed by the person who made it!
Online

Price: $ - $$

Made in Malawi, and inspired by " by African artisanal traditions and prints". MayaMiko has an eclectic colorful style for the global modern woman.
Online/Sold at select department stores

Price: $ - $$

For comfy basics, Pact is the way to go. Made with certified organic cotton, their clothing is so soft to the touch. They pride themselves on not using pesticides, toxins, or doing harm to the environment or the people who make their clothes.
Online

Price: $ - $$

Made in LA, this brand gives off free spirit headed west vibes with a goal of "protecting everyone in the supply chain of apparel."
Online

Price: $ - $$

Made from eco-friendly fabrics, they have an abundant activewear section, and much of their clothes give you options on different styles and patterns to enjoy.
Another way to save some green while getting more bang for your buck is to sign up for discount programs and newsletters. By signing up for different newsletters you get inside scoops on deals and sales, and with these browser extensions you have another guide to help you find brands you'd like to shop.
Newsletters
Brands usually give you discounts just for signing up and get insider information about when to shop next to get a good sale.
Honey's browser extension automatically applies the best coupon code to your basket when shopping online
Use Done Good's browser extension to help you find ethical brands and companies while also giving you discounts! A college student's dream.
This app provides ratings on how ethical different brands are, making this a quick and easy way to find new places to shop too.
When shopping for trendy pieces, I say head to thrift stores first and then use this guide to help build your closet. It's totally okay to have a mixed wardrobe of thrifted and investment pieces — it gives your closet variety by having timeless items that recycle through seasons and some trendier fun pieces.
Getting involved in your community is a great way to shop around. With programs like Unitiques101 you can buy and sell your clothes in a more controlled and safe way.
Swap Meet
Swapping enables you to find pieces for cheap (or sometimes free!). Host a swap meet with your friends or in your community. Or find an organization on your campus to help sponsor one. FYI, if you're doing this with your friends, chances are you'll snag something you've been eyeing in their closet. Turning your trash to treasure is a great way to meet people, shop their closets, and keep clothes out of landfills!
Thrifting & Buying Secondhand
This is always mentioned when wanting to reduce our waste and impact because it truly is a great way to keep recycling clothing. You might even find some gems you'd never find shopping at a department store. It can be daunting at first, but with some time and practice you'll be a thrifting queen in no time. Check out how our fashion editor Meggie helped me through the process at our Savers Thrift Challenge, or you can find out where your zodiac sign divines you shop secondhand.
ThredUp → We've mentioned this website quite a few times and for good reason. With ThredUp being large online consignment store, you'll find creative pieces of clothing for prices that even broke college students can afford.

Neo thread company → This company takes old clothes and transforms them into trendy, unique pieces.
It's important to keep in mind that there really isn't a fix-all or easy answer to shopping ethically and cheaply. In today's sustainable fashion world, shopping typically entails spending a bit more, and while that's totally disappointing in some aspects, it's also important to consider the people and the planet behind our clothes. So it comes down to this: how much do you want to invest in your closet? Buying less but investing in quality pieces can help set up your wardrobe for years to come while thrifting can fill in the gaps and satisfy the urge to shop in much the same way fast fashion does. You don't have to be wealthy to make a difference and in the end we do our best and keep shining with what we have.
Cover photo via Girlfriend Collective